Our holiday to Costa Rica gave us an opportunity to have 3 days stopover in New York, somewhere we'd never been before.
One of the most famous cities in the world, it is iconic, and a daily presence in our lives as a location from TV and films. It is so instantly recognisable that it is quite peculiar, a big buzzin place, fullof towering skyscrapers, teaming grates and bright yellow taxis.
We stayed in a hotel in Downtown Manhattan, just next to Broadway. Our first stop was a visit to Time Square (
check out this funky 360 view
) where we saw the infamous
Naked Cowboy
busking & spreading world peace. He says he takes in $US700 to $US1000 on an average day.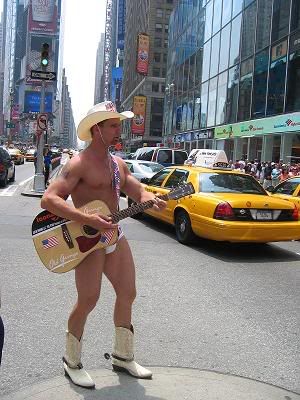 Time Square is amazing, surrounded by the electronic billboards and huge stores. The Toys R Us store was incredible - it actually has a Ferris Wheel inside!
We have a loong snooze to get over the jetlag.
Day 2 is an early start with a fresh New York bagel for breakfast. It is Puerto Rico day today, and Puerto Ricans line 5th Avenue in anticipation for the parade, blasting out Reggaton music. We are off on a "Sex And the City" tour, it being Jo's favourite TV show. We see lots of the main locations for the series, get cupcakes from the place they do, stop at the sex shop where they got their rabbits, get a Cosmopolitan at Aiden's bar, and get a photo of us on Carrie's steps.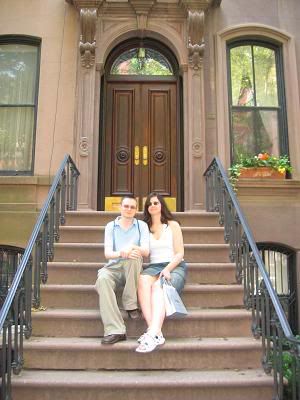 In the afternoon, we find that the Puerto Rican parade inaccessible, blocked off by the police, so have a mooch in Central Park and go boating on the lake. I do all the rowing, and Jo sunbathes.
Day 3: More sightseeing. An early start at the Empire State building to beet the crowds and a cool view across the city. We take the subway down to the Financial District and have a look at Wall Street and the New York Stock Exchange. Then down to the ferry to Liberty Island to check out the Statue of Liberty. It really is quite the icon, bigger than I expecte, and very photogenic. (I know this photo isn't great, but it show that we were actually there!)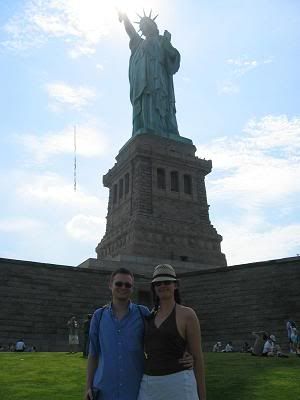 An overpriced minivan ride later from a crazy geriatric Niciraguan and we're back at JFK airport and on to Costa Rica!
More of my NY photos can be viewd via this link.