My friends from student radio, nick & Lou were getting married, and it was close enough that we could drive there after work we went to
Upwaltham Barns
in west Sussex for a Thusday evening wedding reception.
It was a lovely venue, and we admired the huge chocolate fountain they had there. And by admired, i mean we stuck lots of marshmellows and strawberries in it then ate them.
Danny was there too, and he had accidentally set fire to his suit jacket on one of the candles. So for the whole evening he entertained with comments about his "smoking jacket". What larks, Pip.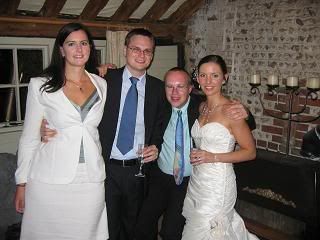 For entertainment they had a live band, and they also impressed with the first dance (to the Beatles "i saw her standing there") which they had clearly been practicing