Tonight we saw Madonna's show at Webley, which was alkso being recorded for TV. We went up after work, and the show was very impresive, if a litle lacking in spontinaity. One of the things I enjoyed most was the "Parkour" / "free running" influenced dancing during "Jump" , which at one point spiled out into the audience. (Parkour is a trendy urban sport where people jump over urban obstacles such as railings and stuff as sen in T shows such as "Jump London").
We got a late train home, overhearing the following conversation:
What do you do?
I'm an erotic dancer.
No, seriously what do you really do.
Seriously, I really am.
i had a half day the next day to catch up with some zzzs.
This is cribbed from the BBC's write up of her Cardiff show:
The heavily disco-themed extravaganza, based on her Confessions On a Dance Floor album, opened appropriately enough with a huge glitter ball descending from the ceiling.
It opened to reveal Madonna in black raunchy riding-style gear, topped off with a black hat with a mane trailing from it.
As she began to move around the stage, skipping and occasionally cantering, I could see her clearly as the Madonna of 20 years ago, in her early Material Girl and Like A Virgin videos and performances.
Once the hat was off and her face was in close-up on the video screens, it was definitely a more mature version of the world's most famous pop star on stage, but you would never have known it from her energy levels.
She can sing, dance, gyrate, stretch and jump with the best of them, and
proved it repeatedly throughout the set. All were in awe in awe of what the 47-year-old performer could make her well-toned body do.
Madonna was soon wowing the crowds in her riding gear
The audience were treated to disco anthem I Feel Love to start - very appropriate to the sentiment Madonna must have been receiving from the appreciative crowd before her.
The first of her defining hits came next with Like A Virgin receiving a roar of approval from the crowd, as she girated on a horse seemingly nicked from a sexy merry-go-round.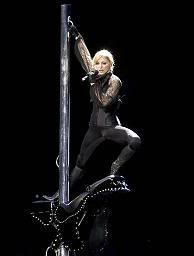 Madonna's tour director said before the show began that it was not a concert but closer to a theatrical performance, and he was spot on.
Sets moved seamlessly - at one time delivering Madonna suspended on a giant wire cross from where she sang the ballad Live To Tell - costume changes were quick and flawless. Nobody put a foot wrong the whole night.
There were serious messages being delivered without a trace of subtlety to the audience - videos told us of 12 million children orphaned in Africa because of Aids, with websites flashed up for the concerned to log on to.
During the song Forbidden Love, which used two male dancers to demonstrate the love that (used to) dare not speak its name, up flashed icons of differing religions crossing one another. Yes, we get the message - nasty religion keeps star-crossed lovers apart.
Indeed, my one complaint would have been this - the singer herself seemed a bit too serious. Not until the last quarter of the show did Madonna look like somebody enjoying herself.
She wasn't much of a smiler, and considering this is a tour about disco, surely one of the most light-hearted, frivolous and fun forms of music, she could have lightened up a little.
The audience did get to see her in different guises. Madonna the rock chick, anybody? That, I have to say, was a new one on me.
She appeared in a leather jacket with a very high feathered collar, straight out of the 70s' glam rock scene, and reminding me rather incongruously of Suzi Quattro.
It worked for her rendition of the song I Love New York, but I wasn't so sure about using it for Ray of Light, which is such a dance track it seemed odd to watch her strumming a guitar for it.
But more power to her for doing it. Perhaps this is an indicator of the future, because even she will one day have to give up her high-energy dance-based shows if she carries on touring into her 60s, say - won't she...?
She certainly didn't give it up before the end of the night. Wearing a cloak with the legend "Dancing Queen" on it, she belted out Lucky Star, which segued seamlessly into her Number 1 hit Hung Up, as her dancers rollerskated around her, finishing with a multitude of golden balloons falling over the exuberant crowds at the front.
And then she was gone. No encore, to the sorrow of the girls next to me, just a message asking, "Have You Confessed?" as the lights came up on the 59,000 people in the audience.