A chilled weekend, time to catch up on internet rubbish.
Gladiator - previously-unseen footage from the location of Ridley Scott's 1999 'sword and sandal' epic Gladiator.
http://www.duncanbeedie.co.uk/gladiator.htm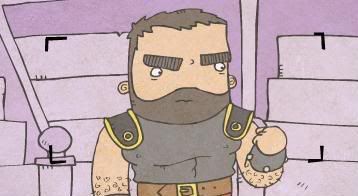 The web is full of EVIL PREDATORS and no-one should go online ever. Now with a foppish sheep wearing an unfeasibly large bow tie.
http://eclectech.co.uk/dailymailpicnic.php
Postsecret is a fascinating website - an ongoing community art project where people mail in their secrets anonymously on one side of a homemade postcard.
http://postsecret.blogspot.com/
http://en.wikipedia.org/wiki/PostSecret
A list of words compiled 'as a service to doctors who are not native English-speakers', but it's BASICALLY all the funny northern words they know
http://snipurl.com/stupidnhspdf
A sequel to Titanic, surprisingly inventive.
http://www.youtube.com/watch?v=vD4OnHCRd_4
LIVE-ACTION, STOP-MOTION - An amazing bit of film as Director Russell Wyner uses stop-motion special effects on a kung fu jaunt about campus.
http://video.google.com/videoplay?docid=-1511995185163028652
THINGSTHATMAKEYOUGOAAHH. Kittens, baby pandas...
http://www.thingsthatmakeyougoaahh.com/