The flight over to Costa Rica was fine, and I the airport transportation is set up a lot better than at New York! They have a booth where you pay for your taxi in advance, and get a ticket to your destination, which means that it's less likely that tourists fresh off the plane are going to get ripped off.
We stayed overnight in San Jose before getting a bus up to Tortuguero, a beautiful natural wildlife reserve area which is famous for the endangered Turtles that roll up on the beaches to bury their eggs in the sand. On the way we passed banana plantations and saw how they are prepared, which was fascinating. We stayed at a place called
Mawamba Lodge
, and they really looked after us. One of the funny things they do is arranging the towels into interesting shapes, like Swans and Turtles. We went on several boat rides, which is the best way to see the edges of the rainforest, and saw plenty of wildlife including Spider, Howler and Capuchin Monkeys. We also had a couple of short treks through rainforest, where we saw Poisonous Red Dart frogs, Poisonous Eyelash Vipers and non-poisonous Spider Monkeys up close. it was quite strange because everything is so well camouflaged that you can't see anything but you feel like everything can see you!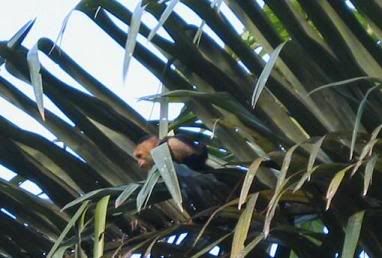 We were really lucky with our weather whilst we were in Tortugero, which was warm & humid, but dry (handy for all our boat trips and walks to go nature spotting). We went in the rainy season, when it tends tobucket it down, particularly in the late afternoon. The first time we\r\nexperienced the Costa Rican rain was on the way to our next destination, Fortuna, the town that the active volcano Arenal towers above. Heavy rain hit on our way there and didn't let up for the rest of the day. Next to our hotel there was a pool under construction, and it shortly filled up completely with water. We couldn't be bothered to go right up the volcano but had a great view from our room with binoculars; we did a precarious trek down to a waterfall and went to
Tabacon Springs
, a nice hotel which had lots of hot springs pools in beautiful gardens, with water at 40 degrees running off the volcano. Most of the pools were too hot for us to go in, though – like really hot bath water.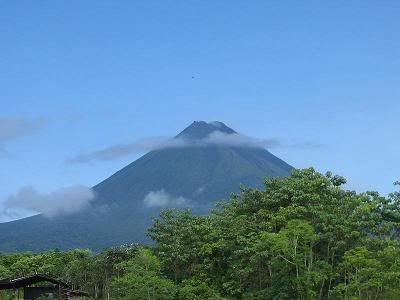 The last place we visited was
Montezuma
, a small beach town well off the beaten track with lots of hippies and travellers, but a relief to be away from American tourists. We had some enormous thunderstorms that sounded like bombs going off, and got woken up by howler monkeys at 4am every morning.
Then on our way home our flight from San Jose got delayed big time causing us to miss our connection – American Airlines gave us some hotel vouchers and we spent an unexpected day in Miami - so we just got the free shuttle to the local mall and went shopping. But didn't get back to London until 6am Monday morning, and without any sleep we were of course too tired to go to work, so slept for the afternoon instead. Our baggage arrived the day after.
You can see the rest of my Costa Rica photos here
.