URE Reunion was this weekend - with a meal on evening of Sat 25th February then a takeover of the shows by the old DJs. A fun night was had at the pretty posh at a function room in the Thistle Hotel (opposite Exeter Central Station). A pretty good turnout and was good to see everyone again (James McNally, Will Garner, Danny Lawrence, Tommy Dyer, Harry Harris, Strange Martin, Oli Adams, James Beatie, Nick & Lou, Russ Blandamer, Chris Homewood etc), it hardly seemed like any time had passed really.
There was a posh sit down meal followed by a couple of speeches (mostly Harris praising Frog who basically is the station) and a photo slideshow of " 30 years of memories". The memories seemed to be of either the current crop of DJs or lifted from my website (so slightly skewed in the direction of me and Tom Davies). Very bizarre seeing my photos blown up onto a huge projection screen though.
The night continued with much drinking and dancing. Was supposed to stay at Will's house in Bradninch but that seemed too much like hard work and we ended up sleeping on the floor at Russ' place. The next day my knees ached from my over enthusiastic Cossack style dancing, and was a little sleep deprived thanks to Will's snoring.
The schedule on Sunday:
9 - 10am Simon Petrie & Oli afams
10 - 11am Adrian Hobart
11 - 12pm Becky Gilchrist & Russell Blandamer
12 - 1pm Chris Homewood (The Chris Homewood Talk Show)
1 - 2pm Mark Seddon
2 - 3pm Harry Harris
3 - 4pm Jane Danser
4 - 6pm James McNally
A podcast of my show is here:
http://seddonism.podomatic.com/entry/eg/2007-04-07T08_44_30-07_00
Doing the show was cool, though it took a little while to get warmed up and get used to the new-fangled computer jingles then before I knew it, the hour was up. Tom Davies spent most of the show as my virtual sidekick down the phone, revisiting items such as "Smack my Pitch Up" (Brokeback mountain & Lucky Number Slevin), advice from Rabbi Williams, and Stressbusting. I wanted to fit in more, but there's only so much you can do in an hour.
Russ, James, Gron, Oli, Simon, Frog, Harry
Oli, Tim, Simon, Ben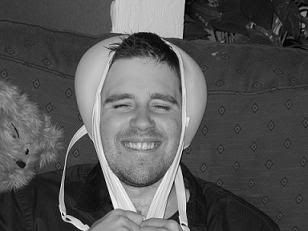 More of my photos are online
here
.
Someone else's
photos
of the weekend were posted here:
http://www.angelfire.com/id/kdp100/ure_30.html
And for more nostalgia:
The old URE website is available here:
http://dev.durrans.com/ure/members/39.html
Nice group photo from 2000-ish:
http://www.studentradioalumni.com/images/29.jpg
My old radio photos are here:
http://www.geocities.com/seddonism/UREphotos.html
http://www.photoaccess.com/share/guest.jsp?Gallery=A3ABE438732&cb=PA
History of me at URE:
http://www.geocities.com/seddonism/mark.html