On Sunday morning after the wedding we have a hearty breakfast at Dartington Hall and mingle with some of the guests that have stayed there overnight, and then drive back home to catch our flight to the Maldives in the evening.
We stay at a place called
Laguna
, a small island (you can walk around it in about 15 mins). But we were really looked after, with loveley buffets every day, and beautiful beaches with turquoise water, with loads of sealife in the coral.
We had a nice and relaxing time; lots of sun, read a few books, went snorkelling & scuba diving, saw the football, had a go at karaoke, and I avoided getting burnt (or any sort of tan at all).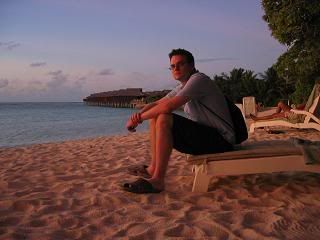 On one excursion we went night fishing. Jo managed to catch 3 fish, while I didn't get any.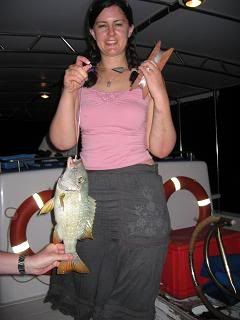 On one of our swims a big fish 50-sih cm went for us. It was only later we discovered it was a Titan Trigger fish - probably the most aggressive fish in the Maldives. We also found some
footage online
of the fish.
Our photos
have been uploaded here
. We've also separately uploaded our photos from
our underwater camera here
.