After Jo's dad Colin had given his speech, I rise to give mine...
Thanks to Colin for his speech and kind words. I hope I can live up to his expectations or at least gradually lower them.
Ladies and Gentlemen, you are about to witness a unique event in history. This is the very first that I can speak 'On behalf of my Wife and I'. It's also probably very last time I'll be allowed. As an ex-presenter on university radio I'm used to speaking in public, but this however will be the first time to an audience that reaches double figures.
Colin is a jeweller and we'd particularly like to thank him for making our wedding rings, which makes them so much more personal to us. Jo's ring is engraved with the words "Jo and Mark 3rd June 2006", mine is engraved with "You hurt her, you die!". Thanks also to Jo's mum Sandra for organising the wedding cake and helping with the dresses. I would also like to thank you both on behalf of Jo for all the love you have given her over the years and for making Jo the loving, caring, sweet and kind person that she is today
My wife and I would also like thank my parents Penny & Tony for all their love and support. Thank you for giving me a great start in life and for your contribution to today's event. Thanks also for babysitting the wedding dress before it was moved down to Devon, and for accommodating many of the hen party for their night out in London.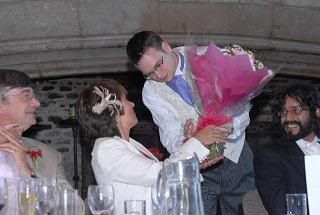 We would also like to thank Mel and Jasmine and for doing such a good job as the bridesmaids, and walking down the aisle so well without falling over. In fact Jasmine's mum & dad got married on this day 11 years ago, so happy anniversary to Simon and Mel.
Thanks also to the ushers Peter and Chris for all their hard work, a fantastic piece of ushing there. If you saw "The Unteachables" on Channel 4 you'll know that my brother in law Chris has some experience in dealing with difficult people and I admired the way he searched the ladies handbags as they went into the church with such discretion and subtlety.
Thanks also to my best man Sumit for his support and doing such a superb job. I have known Sumit since we were 8, and he has proven to be and I hope will continue to be a great friend. But of course that could all change in the next few minutes when HE starts speaking. So far Sumit's been the Model best man - in fact, so that I could better describe him, looked up I looked up the word "model" in the dictionary. It said "A miniature replica!", so there you go. I won't list his many other good qualities as I always have trouble reading his writing.
Thank you to all of you for coming here today and sharing our special day with us. It means a lot to me and Jo, particularly as I know many of you have had to travel a long way. I think my friend Katrin wins it, having come all the way from Norway. We'd particularly like to mention and thank Leslie, who performed the service so beautifully earlier, who has travelled down from Yorkshire. Leslie also did the wedding ceremonies for my parents and for my sister, so I would also like to apologise for any peculiar feelings of Deja-vu that he might be having. Thanks also to Jo's uncle Tony who has been providing the Chauffeuring duties for today.
We'd just like to mention those who haven't been able to make it here today - my Auntie Alex who is currently on Stage in Blackpool, and also her husband Patrick, my Aunt Gill and Jo's uncle Burt who are unwell. Also my friend Will Jelbert who can't be here today as he is working in Australia.
It was through Will that Jo and I first met. He had just started working at Reuters and one night I went with him to Timepiece nightclub in Exeter, where he was meeting up with some of his new colleagues. One of whom happened to be Jo and we clicked straight away. I wanted to see more of this new girl, and I knew that she would often go salsa dancing, so somehow I found myself going to Salsa dancing classes. After the classes I was able to show off my new dancing skills to Jo at the salsa night at the club.
It must have done the job as a little while down the line we started going out. (Mind you, that was in the days before she started wearing her contacts). We got a lot closer over the next few months and when Jo decided she would be going travelling, I realised that I couldn't let her go without me and so made the best decision I've ever had, joining her on a year abroad.
We had an amazing time travelling around California, New Zealand, Australia, South East Australia and living in Sydney for a few months. Spending all that time together we had some real highs, but also some stressful situations, which brought us much closer together. When we came back to England we supported each other and pushed one another forward as we started out in a new city and new career path. It was on our 4th anniversary of going out when I proposed, which also just happened to be the evening that my sister was going into labour. So I have no excuse for forgetting when little Jasmine's birthday is.
Jo knows know me better than anyone, but still agreed to marry me, so for that I'm grateful. Many people have told me how lucky I am to be marrying Jo, including Jo in fact.
I'd just like to say how wonderful you look. During all the preparations I thought to myself what you'd look like today but you really look more amazing that anything I had imagined. I'm so happy to be marrying you, and I very much look forward to our future together. They say you don't marry someone you can live with - you marry the person who you can't live without which I think is very true with us.

Jo, I just want to say, in front of our friends and family, that I love you and hope that every day will be as happy as today. Just not as expensive.





Well, that's it from me. I hope I didn't make too many stale old jokes, as I wouldn't want to use all the best man's material. Before I pass you over to Sumit, Ladies and Gentlemen, please stand and lift your glasses and join me in a toast to bridesmaids…… "Ladies and gentlemen, (pause until everyone is standing with their glasses raised) to... the bridesmaids."