After months of anticipation the stag team Budapest shortlist of myself, Sumit, Peter & Jo arrived at Luton Airport. We check in at the Eazyjet desk and after a couple of minutes puzzlement by the Easyjet staff they let us know that Peter had actually booked his flight for Thursday. The day before. And that our flight was now fully booked. After a frantic search on the web, we book him a flight for the next morning and continue on ahead of him.
We arrive a Budapest airport, and get some foreign play-money from an ATM, before getting a taxi. Researching the trip, I read a stream of warnings about the rip-off taxi cabs waiting outside the airport, and that you should phone for a reputable company. They wait around the corner as they get beaten up by the mobsters that hang out the front. We turn down the first cab guy that approaches us as he was a huge bald intimidating chap, but the second guy looked more reputable and quoted us a price that sounded fair, and the journey was fine.
We stayed at
Hotel Fortuna
, which was a little bit out from the centre. We decide to walk into the centre to find something to eat, and it was a pretty long walk, it's difficult judging the scale on maps sometimes! When we're all feeling a little bit tired and hungry we take a chance on a place we pass, it's an underground place 'Kaltenberg Eterem', with a bit of a German feel to it. It's not too bad, and we wonder why it isn't busier, when we realise it's midnight and they're beginning to close up.
Sumit feels under the weather and it becomes increasingly obvious that he can't go on, so we won't really be able to rave it up. So before we head back we stop for drink at the 'For Sale' pub. It's a really cool place, straw is on the floor, there's a basket of monkey nuts on each table and business cards and passport photos are pinned to the walls and ceiling. (We pass by the Cha cha cha club, which we've read is a cool buzzing place, but it's closed). We get a Taxi back to hotel, where there is a drunk English lad on the reception's sofa cuddling up to his pizza.
There are a fair few stag parties about, but are mostly the type of English person that makes me ashamed of my nationality. There were several groups on our flight out, one fellow was so bad when we arrived at the airport that he couldn't even stand up as he went through passport control. A group of lads stayed in the hotel bar and drunk it dry. Quite why they'd do that rather than venture out into the city, I don't know.
That night Sumit sweats out his fever, shivering under pile of blankets. Peter's flight arrives midday on Saturday, so Sumit stays behind to continue his recovery and Jo and I decide to go on ahead and see the centre before they meet us in a couple of hours. We work out how to use the Metro so we're able to get into the centre in just a couple of minutes. Jo & I have a look at the tourist street Via Uktca. We stop off for a drink at Vernes underground bar, 20,000 Leagues under the Sea theme, so you feel like your in a Jules Verne style submarine. I love theme bars. I get things started with a Cuba Libre cocktail and a pancake. Nice start to the day.
We walk past the Basilica to meet Peter & Sumit in town. Amazingly Peter got on his plane, changed money and got taxi to the Hotel all on his own then taking metro. Round of applause folks. We walk up to
Abzinth Restaurant
which I had noticed on the web. When we arrived though, it looked disappointing because of scaffolding outside, and almost try and find somewhere else, but as we're hungry we decide to give it a go, at it is actually very nice. Sumit and I have Absinth, prepared in a very professional way, and Pete has some girly pink cocktail. For starters we have frogs legs, and main is pork medallions with mushroom. Yum.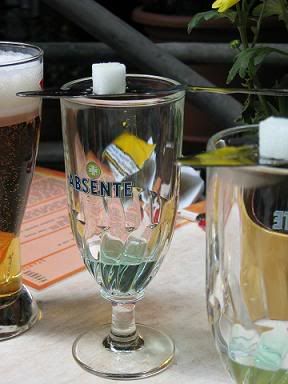 We decide to do a bit of the touristy thing and head toward the Castle on the Buda side of the river Danube. Before we get there we stop off for a drink by the river, the firs of may such stops. We cross the chain bridge over to Buda side, and take the funicular railway up to castle, and have a wander around, we take photos, but oddly Peter seems to mostly take photos of himself. After stopping at several more bars we go back to the Hotel to change and have a vodka redbull top up.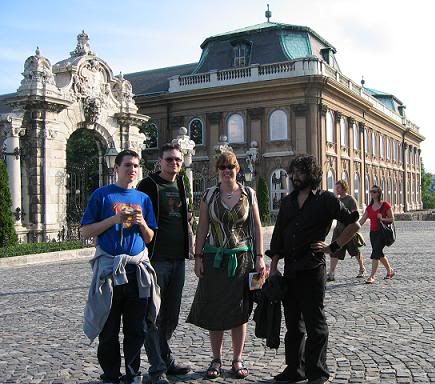 Dinner was booked at
'Sir Lancelot'
medieval themed restaurant (I love themed restaurants). Food is served by
wenches
on giant platters, drink is served in huge tankards of ale. The portions are massive and we barely eat half.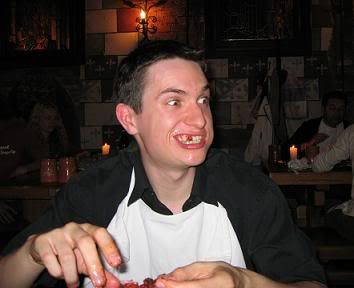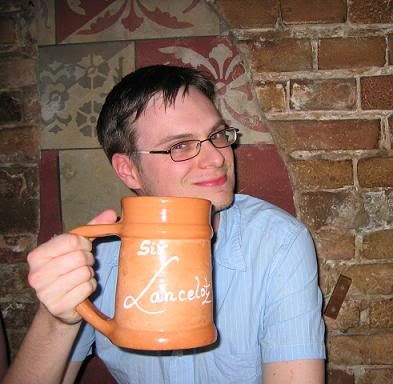 There are water fountains next to the tables that you can wash your hands in. And throughout the meal there are people providing entertainment down the middle of the long room - belly dancing, a strongman lifting guests above his head, sword fighting, fire eating (funny guy). Peter is picked to take part in an arm-wrestling contest, and is knighted. At the end of the meal our poor waitress is asked to pose with me for a photo.
During the meal I come up with a long list of Sirs - Sir Cumstancial Evidence, Sir Cumfrance of A Circle, Sir Cumsision, and so on...
Video of Fire-eater:
Video-of Peter Arm-wrestling
We walk to another bar I found on the web, the
Szoda bar
. (As it happens it is a bit dead, maybe because everyone is out at one of the outside clubs?). Still it's a pretty cool place, and has manga cartoons on it's ceiling. We play the rizla game, and have pieces of paper stuck to our head for a little while. Sumit draws a little picture for me on a postcard. We think about going out clubbing somewhere, maybe to one of Outdoor clubs, but all feel a bit worn out, so back to hotel for a drink and play cards. When go to bed at 4am we'd been drinking for approx 14 hours on and off, which isn't too shoddy.
Next morning we up early-ish to get up and about and have breakfast. We try and raise the dead (Peter), who is up eventually. We have to go to one of Turkish Baths as they are one of Budapest's real highlights. We opt for the Gellert Baths, in a Grand hotel. After figuring the pricing system out, we negotiate our way through a cavernous maze of changing rooms, handing over forms to get our lockers & towels to get to the pool, with a warm bath & outside pool. After a pretty tiring day on Saturday, it makes for a nice relaxing time.
As our last bit of decadence before we leave we have lunch at sophistimicated looking
steak house
. Peter has huge crown of ribs which has be seen to be believed. We're all stuffed to bursting (definitely not feeling Hungary). Waiter looks disappointed that we just drink Cokes rather than wine, but feeling a bit worse for wear we all are in the mood for a bit of hydration.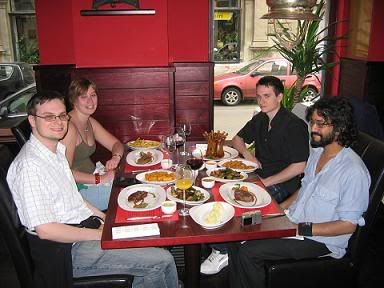 A taxi back to the Airport and we're off back home and I'm one step closer to married life.