Sounds like the weather back home has been more changable than Michael Jackson's face (
http://www.anomalies-unlimited.com/Jackson.html ). Don't blame it on the sunshine, don't blame it on the moonlight, blame it on the el nino weather phenomenon. *
The last time I wrote, it was from the comically named Wanaka. Jo and myself have coninued our journey Northwards, and we are currently in Tuapo on the North Island of New Zealand.We've been able to quickly upload a few photos in this internet place - some of California, and some of our Dolphin dive; check them out here http://uk.photos.yahoo.com/bc/seddonism/lst?.dir=/Travel .
After Wanaka, we drove by coach to Franz Josef. As with most of the journey, it was very scenic - we stopped at a salmon farm and stuffed our faces with gorgeous salmon during the brief coach lunch stop. A comic was highlight was the coach driver giving a long lecture about not touching the electric fence next to a scenic photo point. Immediately afterwards, some japanese tourists leaned against it, oblivious to what he had just said. Fortunately for them, it was turned off. FJ is famous for its glaciers, and we went on an exhasting afternoon glacier hike http://www.franzjosefglacier.com .
Our next destination was Christchurch http://www.christchurchnz.net , and we travelled there on the famous Tranzalpine train through the Southern Alps and Arthurs Pass. It is reputed to be one of the best train journeys in the world and it wasnae bad. One of Christchurch's attractions is "The Wizard", a guy who rants outside the Cathedral. I'm not sure if it was him or not (he didn't have a pointy hat on), but he was hilarious, particularly when an even bigger nutter started arguing religious points with him: "
There were 12 tribes in Judea!" "No there weren't" ... and so on.

We checked out the Canterbury museum & botanical gardens www.cantmus.govt.nz , the many second had bookshops andthe aqaruim. We were able to get a look at a real life Kiwi. It was a bizzare little thing, bobbing about in the dark - there aren't many in the wild any more after introduced species all but wiped them out.

After capuring the last episode of Xena Warrior Princess on TV, we headed to Kaikoura www.kaikouranet.co.nz , famous for it's local marine life. We started off with a whalewatching tour www.whalewatch.co.nz . The sea was pretty choppy , and the earlier tours the day had been cancelled - however we continued to be lucky with our weather and we were able to go. The sea was still pretty rough - almost half the people on the boat were sick (including Jo). As we watched from the boat, we saw almost immediately a group of Orca Killer whales, and lots of Albatros. The aim of the trip was to try and find a Sperm whale. We were lucky enough to see 2 - though we could only see a part of its back & blow hole and then its tail as it finally dived down, it was a pretty magical experience.

The next day, we went on a dolphin encouter www.dolphin.co.nz to go swimming with dolphins. The centre kitted us out with a full wetsuit (with gloves, mask etc) - essential in the cold water. They even hadd precription lenses for my goggles. Well, you can see the results in my potos! We also bought a disposable underwater camera. Soon after going out in the boat, we came by a pod of about 450 dusky dolphins. We swam off from the back of the boat, swimming with the dolphins and trying to take some pictures. Masses of dolphins were swimming by, looking at us, sometimes as many as 8 dolphins were close by - it was absolutely incredible. When the dolphins had swam by, we got back on the boat to catch up with them & repeat the experience - in all we had 4 swims. Afterwards, we wamed up on the boat with a warm shower and hot chocolate then sat on the boat, watching the dolphins swim by.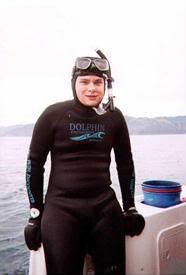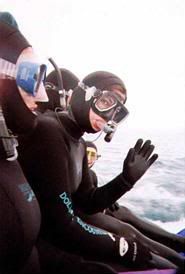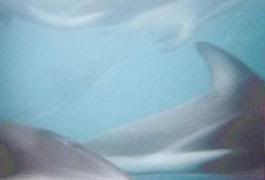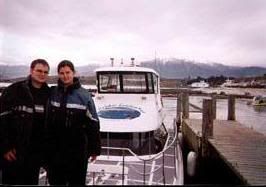 Kaicoura also has a large Seal colony, and we visited that before moving on to the nation's capital Wellington www.wellingtonnz.com . It has the slogan "Absolutely Positively Wellington". When we first got there we absolutely positively snoozed all afternoon. The following day we took the historic cable car up for a panoramic view of the city, and walked back down through the pleasant botanic garden www.wbg.co.nz . There we found a pleasant suprise - THE SEDDON MEMORIAL ! Needless to say, I was dead chuffed. It is a large memorial in honour of Richard "King Dick" Seddon. He was Prime Minister of New Zealand at the end of the 19th century and was pretty populat, and apparently is some sort of great uncle of mine. He was Prime Minister when women were granted the vote, though apparently didn't think it was a very good idea.

Afterwards we visited the Te Papa museum www.tepapa.govt.nz , which was pleasant enough. Incidentally, I don't believe that there is a "Yo Mamma" museum.

Leaving Wellington, we flew to Taupo on a tiny little prop plane which freaked my chicken, but Jo thought was cool. In Taup we exerted ourselves on an energetic walk (out of character, I know) along the Waikoto river, visiting "The Craters of the Moon", almost natuarally formed holes in the ground, pouring forth hot suphourous steam. I called them stink holes. The smell gave me a headache. We should next be visiting the natural springs here, before moving on to National Park in the Wakapapa region, Rotorua & Aukland.

Tip for the top: heard on TV and radio here a lot, Avril Lavigne & her single "Complicated" - I don't know if she's being played in the UK, but her No Doubt style tune, combined with Sarah Michell Gellar looks make her a sure fire hit (and obsessed about by certain presenters of the No Show radio show) http://www.avril-lavigne.com/ .

Hope all is well with you, I try to reply to all of your mails, and enjoy getting them, so feel free to reply. If you want to be taken off theis dist list, or know of someone that wants to be added, let me know. As always, I'll update http://seddonism.blogspot.com/ with the latest.

All the best,

Mark



* thanks to Geoff and David for that repeatedly stolen joke.