Over Christmas I went on Holiday with Joanne, my Parents and my brother Peter. We Stayed for one week in Orlando, and one week in Cocoa Beach on the east coast. It was really good to get away, as apart from our break to Sorento last Feb, all our holiday had been used up on flat decorating, and exam leave!
The weather, whilst not brilliant, was better than the UK, and it was nice to get a bit of sun in the bleak midwinter. The worst day weatherwise was Christmas day, the day we chose to visit the Magic Kingdom. The heavens opened, and it just but a massive dampner on the whole thing.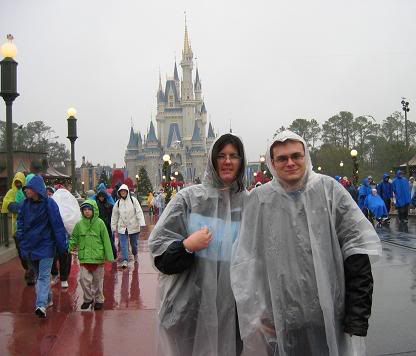 Christmas lunch was at "Tony's" - a Lady & the Tramp themed Italian. The weather cleared up in time for the Spectromagic light parade in the evening, and we had a cool spot right in front of the castle.
We also visited Busch Gardens in Tampa, a mix of wildlife and rollercoasters. They just had a baby Rhino, which was very cool. The other Them Park we visited (mentioned below) was Universal's Islands of Adventure, which was very cool - it had some massive rollercoasters. Previously, I'd been a bit of a rollercoaster wuss, but I was well and truly converted - I went on the Hulk ride, and the Dualling Dragons to name but two. And towards the end I even kept my eyes open.
We also took part in some serious retail therapy, hitting some of the malls. We were most on the look out for some Sketchers shoes, the ones we'd bought from California in the Summer of 2002 had lasted us nicely, but now needed replacing!
Just the thing for traipsing around the Kennedy Space Centre at Cape Cernaveral (can't be bothered checking my spelling today so that might be wrong) , home of the Apollo space missins amongst others. It was a very interesting place, and we had a coach tour around the centre.
Whilst the rest of my familly chilled their boots on the East Coast for the second week, Joanne and I had our own min-break down to the very cool art deco styled Miami Beach. I hadn't realised it was so cool - it's a real hang out for fashion afficonados (Gianni Versace was shot dead on his doorstep here!) , and Fashion Shoots take place on the beach most mornigs.
As we strutted our stuff down Lincon Mall, we saw this funky stretched Humvee.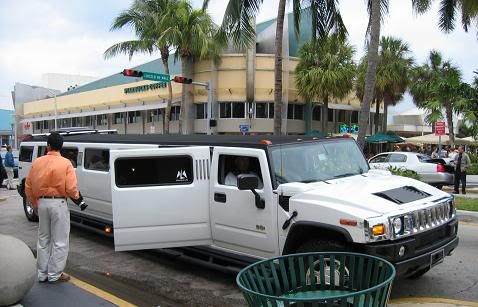 In face, Hummer spotting was a bit of a game we played whilst we were out driving around. As well as looking at those huge mother-truckers.
Next stop was the everglades. We visited the amazing Shark Valley, which was an absolutely incredible place. We saw some incredible wildlife on their tram tour, including all sorts of birds and turtles - but the big draw is the aligators. They enforce a strictly no feeding policy, which means Shark Valley's gators don't associate humans with food, which means that they are a lot safer to be around. There are no fences, and they just wonder around free, which means you can get within just a couple of feet of them. Though you'resupposed to keep a safe distance, people generally got pretty close!
As we walked down one path at Shark Valley, the path was blocked by 2 big gators. Jo didn't like this photo being taken - but one guy took a photo of them, bending down just a foot away. Daft bugger.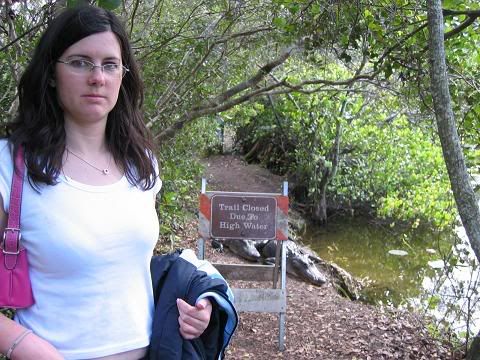 Well that's the highlights - more photos of the trip can be seen here:
http://www.photoworks.com/share/shareLanding.jsp?shareCode=A3BD0E1B9FA&cb=PW